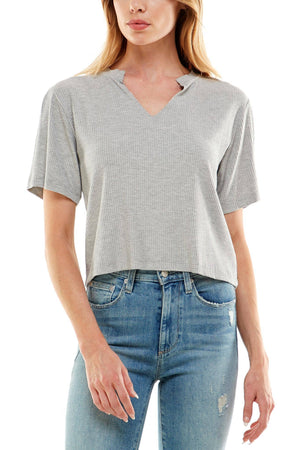 Harper Ribbed Tee
The Harper Ribbed Tee is the perfect everyday staple for your wardrobe. The soft ribbed material adds texture and dimension to the t-shirt, making it stand out from your other basics. The split neckline adds a touch of personality to the classic t-shirt design, while the slouchy dropped shoulders add a trendy and relaxed element to the overall look.
The Harper Ribbed Tee has a relaxed fit that is true to size, ensuring that it fits comfortably and flatters your figure. The relaxed fit also makes it easy to wear for a variety of occasions, whether you're running errands or heading out with friends.
This versatile tee is perfect for any season, whether you're wearing it with shorts in the summer or layering it under a jacket in the fall. The Harper Tee is the perfect addition to your casual wardrobe, providing both comfort and style in one.