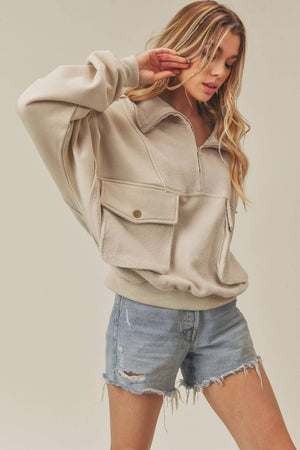 Carter Pullover
The Carter Pullover is a must-have item for every wardrobe. This classic piece is designed with a slouchy and relaxed silhouette, giving you both comfort and style. It features a convenient quarter-zip neckline that allows you to adjust your level of warmth throughout the day. It features utility pockets, so you can carry your essentials with you wherever you go. These pockets are designed to be functional and stylish, adding an extra touch of utility to this already practical piece.
The Pullover is made with a warm brushed terry fabric that will keep you cozy and comfortable all season long. The soft and plush texture of the fabric is perfect for lounging around the house or layering over your favorite outfit on colder days.
The Carter Pullover is the perfect addition to any wardrobe, providing warmth, comfort, and style all in one. It's a timeless piece that you'll love wearing season after season.